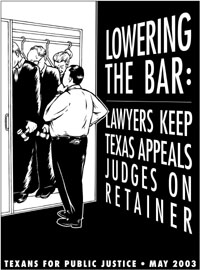 Lowering the Bar:
Lawyers Keep Texas Appeals Judges on Retainer

---

&nbsp&nbsp&nbspYou must download the most recent version of Acrobat Reader
---
Table of Contents
I. Summary

II. Introduction: Appeals Courts Go Republican

III. Appeals Court Contributions At A Glance

A. Contributions By Election Cycle
B. Contributions By District
C. Contributions By Party
D. Candidates With More Money Usually Win
E. Competition Drives Contributions
F. Biggest War Chests


IV. Who Bankrolls the Justices?

A. Contributions By Donor Size
B. Lawyer Money Dominates
1. Dependency on Lawyer Money Is Increasing
2. Lawyer Dependency By District
3. Lawyer Dependency By Party
4. Lawyer-Dependency Rankings of Justices
5. Top Law Firm Donors
C. Contributions By Other Economic Interests
D. Top Non-Lawyer Donors


V. Appendix: Profiles of the 14 Districts
---
To Download This Report
You will need Adobe Acrobat Reader to view this downloaded file. You can get a free copy here:

---

Pamela Fridrich, the main researcher of this report, was assisted by Matthew Connolly, Bill Medaille and Andrew Wheat.
Illustration and layout by Jason Stout.

---
To Order Printed Copies of This Report
Copies of this report are available from:

Texans for Public Justice
609 W. 18th St., Suite E
Austin, TX 78701
PH: (512) 472-9770
Fax: (512) 472-9830
tpj@tpj.org
http://www.tpj.org/

---

Texans for Public Justice is a non-profit, non-partisan advocacy and research organization that tracks the role of money in Texas politics.
---
© Copyright Texans for Public Justice, May 2003