Checks & Imbalances:


How Texas Supreme Court Justices Raised $11 Million

home | table of contents | previous | next


IV. The Justices' War Chests

---

The eight elected Texas Supreme Court justices (appointee Alberto Gonzales has yet to be elected) last ran for office in staggered races that cover the 1994, 1996 and 1998 election cycles.

The 1994 cycle marked the end of an era. It was the last time that Democratic candidates mounted competitively financed runs for the Supreme Court. Conservative Democrat Raul Gonzalez, who was backed by doctors and business interests, raised more than $2 million for his successful reelection bid that year. Defeated Democratic candidates Alice Oliver-Parrott and Jimmy Carroll raised $1.5 million and $1.3 million respectively in 1994. Carroll even raised more money than his victorious Republican opponent, Priscilla Owen.

In subsequent Supreme Court races, the candidate with the most money has always won and this candidate invariably was a Republican. In 1998, defeated incumbent Rose Spector raised $563,931. This was far more than any other Democrat has raised for the high court since 1994. Yet this Democratic incumbent raised less than half as much money as her Republican victor (Harriet O'Neill).



Texas Supreme Court War Chests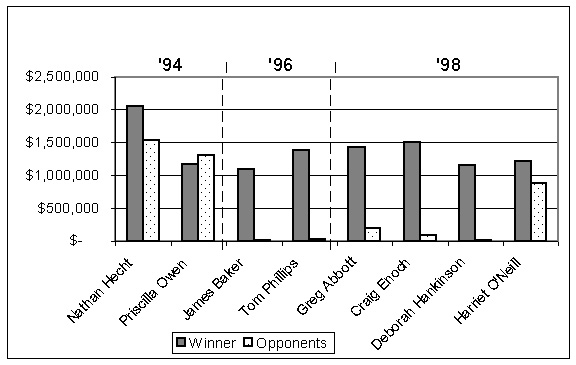 Note: Amount raised by Justices' opponents includes the total amount
raised by the primary and general election opponents where applicable.
The 1994 election cycle also was the last time that any Supreme Court candidate cleared $2 million in campaign contributions (Hecht and Gonzalez).* The smallest average winning war chest in this period ($1.2 million) came in the 1996 cycle, when Republican primaries went uncontested and the best-financed Democrat raised just $20,057. The biggest single war chest amassed since 1994 was the $1.5 million Craig Enoch raised in 1998 to defeat a nominal challenger who raised less than $100,000.



Winners v. Losers

Winner
Total
Raised
Primary
Opponent
Opponent
Raised
General
Opponent
Opponent
Raised
Winner
To Loser
$ Ratio
Hechti ('94)

$2,052,989

C. Howell

$16,723

A. Oliver-Parrott

$1,523,462

1.3: 1

Owen ('94)

$1,171,665

None
Jimmy Carroll

$1,305,784

0.9:1

Bakeri ('96)

$1,097,980

None
Gene Kelly†

$3,288

334:1

Phillipsi ('96)

$1,386,903

None
Andrew Kupper

$20,057

69:1

Abbotti ('98)

$1,432,751

None
David Van Os

$187,367

7.6:1

Enochi ('98)

$1,511,691

None
M. Westergren

$84,170

18:1

Hankinsoni ('98)

$1,153,747

S. Smith

$134

J. Scarbrough

$16,815

68:1

O'Neill ('98)

$1,214,450

C. Tyson

$319,963

Rose Spectori

$563,931

1.4:1

Average

$1,377,772

$112,273

$463,109

TOTAL

$11,022,176

$336,820

$3,704,874

2.7:1
i Incumbent
† Third candidate Eileen Flume raised no money.




* The state judicial campaign law that took effect in 1995 sets a $2 million expenditure limit for Supreme Court candidates who agree to voluntary spending limits.
---

home | table of contents | previous | next