January 27, 2010
Recession Pounds Perry's Jobs Fund
The global recession that hit Texas in 2008 is playing havoc with Governor Perry's signature business-incentive program: the Texas Enterprise Fund (TEF). A review of 45 TEF projects that received $363 million in public funds reveals that an increasing number of TEF recipients defaulted on their job commitments in 2008—with even more defaults expected to be reported in the 2009 compliance reports that TEF is now beginning to receive.
Run out of the Governor's Office,1 TEF has been a centerpiece of Perry's administration, with the governor often convening media events to unveil TEF awards. The political role of the program has become more problematic in the last year. As a brutal economic downturn coincides with Perry's reelection campaign, the governor has not publicly addressed his job program's mounting woes. Instead, his office has quietly redefined success. When the 2008 recession struck, the Governor's Office increasingly amended TEF deals to ease the contractual requirements of what a recipient must do to hold onto its public funds. In its first four years of operation, TEF formally amended just one development deal.2 Since the recession struck in 2008, Governor Perry has signed amendments diluting six additional development contracts.3 While the governor, House speaker and lieutenant governor all approve TEF grants, the Governor's Office said it acts alone when amending the deals.
TEF contracts typically permit the state to terminate an agreement—and recover public funds—when a TEF recipient falls woefully short of its initial job target. The Governor's Office has enforced the death penalty on just two TEF recipients—though many more companies have qualified for it under the terms of their contracts.

Recent TEF Contracts That Qualified For the Death Penalty But Have Not Been Terminated

Recipient

TEF
Grant

Penalties
Imposed*

Jobs
Target

Albany Eng'd Composites

Authentix

Gulfstream

Martifer Energy Systems

Santana Textiles do Brasil
Most TEF agreements contain "clawback" provisions that allow the state to impose financial penalties on recipients who fail to meet job commitments. Yet the Governor's Office does a better job of doling out state money than recovering it. The Governor's Office said that it fully recovered the public funds disbursed in the two TEF deals that it terminated with Hewlett-Packard and Maxim Integrated Products. As of October 2009, however, it had imposed $647,100 in penalties on 11 other TEF projects studied here. These penalties recovered just 1 percent of the $61.4 million that TEF has disbursed to these penalized grant recipients.
Governor Perry frequently boasts about Texas' economic performance, which he often attributes to TEF and state policies limiting regulations, torts and taxes. The governor's bragging made for an easier pitch as little as a year ago. Even as the U.S. economy tanked in October 2008, Perry convened a meeting on Texas' economy where he boasted that:
The state added 252,000 jobs in 12 months; and
Texas' 5 percent unemployment rate remained below its level during the high-tech bubble burst five years earlier. 4
As the accompanying graph illustrates, however, Texas' employment growth rate turned negative starting in February of 2009, according to Texas Workforce Commission data. The same source reported that Texas' unemployment rate has since surpassed its peak during the dot.com-bomb,6 hitting 8 percent in November 2009 (below the U.S. unemployment rate of 10 percent). Lacking a TEFlon coating, many TEF-subsidized businesses have reported to the Governor's Office that they have been thrashed by the recession. As the recession took hold, the Governor's Office had to massage data to keep projecting an image of economic vibrancy. A media release it issued in January 2009 claims, "Approximately 70 percent of the jobs created in the U.S. from November 2007-2008 were in Texas." To cook these numbers the Austin American-Statesman revealed, the Texas Workforce Commission ignored all the jobs created by the 36 states that had negative job growth in that period.5 In fact, if you throw out just 13 more incovenient states, Texas accounted for 100 percent of all new U.S. jobs.
Penalized TEF Projects (As of Oct. 31, 2009)
Recipient

TEF
Penalties
Imposed

TEF Funds
Disbursed
(By 10/09)

Penalty As
Percent of TEF
Disbursement

Total
TEF
Grant

Albany Engineered Composites

Alloy Polymers

Authentix

Cabela's

*Hewlett-Packard

Hilmar Cheese

Lee Container

Martifer Energia, S.A.

*Maxim Integrated Products

Sanderson Farms

Santana Textiles do Brasil

TX Instit. for Genomic Medicine

Trace Engines

TOTALS:

$965,096

$66,400,000

1%

$74,151,000
*The Governor's Office terminated this deal and said that it recovered all disbursed public funds.
Note: Penalties include "repayment penalties and receipts due to enforcement of clawbacks and opportunity losses of additional disbursements based on performance."
Texas Non-Farm Employment Growth Rates (Jan. 2002 - Nov. 2009)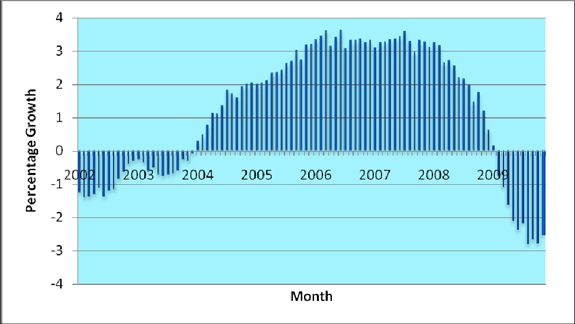 Source: Texas Workforce Commission and Texas A&M University Real Estate Center.7
Governor Perry claimed in February 2009 that TEF has created 54,000 jobs since the program's creation in 2003. Yet more than one-third of the jobs that Perry was counting were job pledges that had yet to materialize.8 While TEF touts job creation, it awarded $51 million to three recipients to maintain pre-existing jobs (see Alloy Polymers, Samsung and Sematech). Nor are all TEF-subsidized jobs reserved for Texans. TEF's $7 million contract with Tyson Foods expresses the "goal (but not requirement)" that 90 percent of the hourly workers at Tyson's Sherman plant be "Texas residents." Portugal-based Martifer Energy Systems reported in May that 11 of the 21 workers that it lined up for its TEF-subsidized plant in San Angelo were awaiting U.S. work visas.
A compilation of TEF projects that the Governor's Office published at the end of August 2009 lists 50 awardees that had job targets in their TEF contracts.9 Five relatively new TEF projects could not be evaluated here because they had yet to file their first compliance reports.10 TEF awarded the remaining 45 projects analyzed here a total of $363 million to create or maintain 47,735 jobs (an average of $7,603 per job). Many of these projects received other public subsidies in the form of property-tax abatements, job-training grants or tax credits. As of the end of 2008, these TEF projects certified that they had created or maintained 31,319 jobs.11 While this accounts for just 66 percent of the total jobs that they pledged over the lives of their TEF contracts, it also represents a surplus of 7,550 more jobs than what they had pledged to produce by the end of 2008. This surplus vanishes, however, if you exclude two indulgent university projects that claim a surplus of 8,752 jobs.12 As discussed below, these two TEF recipients negotiated contracts that give them credits for jobs that were not generated by their TEF-subsidized projects.
Twelve of the 45 projects reviewed failed to meet their contractual employment commitments, with TEF terminating two failed deals outright.13 More recipients would have defaulted if TEF had not amended eight contracts to ease their terms of compliance.14 Nine more TEF recipients are struggling with their job pledges, with many meeting their 2008 jobs targets only by drawing on a dwindling supply of surplus job credits from previous years. Some of these TEF recipients will almost certainly default on their 2009 job targets. Finally, the job targets in four major TEF contracts were fundamentally flawed. A $50 million TEF contract suggests that Texas Instruments will create 1,000 new jobs, for example, but imposes no deadlines or penalties for this amorphous target. The rest of this report takes a closer look at the 32 TEF deals that have been terminated or amended, are non-performing or troubled, or were fundamentally weak to begin with. Job-compliance reports submitted by the 13 remaining TEF recipients suggest that those deals are performing well.
Unemployment Insurance Has Funded the Enterprise Fund
Texas' Unemployment Compensation Trust Fund is running out of money to pay benefits to all the state's laid-off workers, including those laid off by companies subsidized by the Texas Enterprise Fund. The irony here is that the state unemployment fund has transferred $161.5 million to Governor Perry's job fund since the legislature authorized such funding in 2005.1 The Texas Workforce Commission recently announced that the unemployment-insurance taxes paid by most employers will almost triple in 2010 to cover shortfalls.2 In other funding, the legislature has appropriated $577 million for TEF since 2003 (though it snubbed Governor Perry's request for $261 million more in 2009).3
1 "Enterprise Fund Pulls Millions From Unemployment Taxes," Associated Press, April 1, 2009.
2 Jobless Taxes To Spike for Many Employers," Dallas Morning News, December 9, 2009.
3 "Perry, Dewhurst See Pet Projects Trimmed," Dallas Morning News, May 20, 2009. The Legislature authorized TEF in 2003 with HB 7 and SB 1771.
Status of Job-Related TEF Contracts
Recipient
Location

TEF
Grant

Job
Target

Deal Status

ADP

El Paso

Performing

Albany Engineered Composites

Boerne

Non-Performing

Allied Production Solutions

Gainesville

Amended

Alloy Polymers

Crockett

Troubled

Associated Hygienic Prod.

Waco

Fledgling

Authentix

Addison

Non-Performing

Cabela's

Buda, Fort Worth

Non-Performing

Caterpillar, Inc.

Seguin

Fledgling

Ctr. For Advanced Biomed. Imaging

Houston

Weak

CITGO Petroleum

Houston, Corpus

Performing

Comerica

Dallas

Troubled

Countrywide Financial

Richardson

Troubled

Fidelity Global Brokerage

Town of Westlake

Non-Performing

FlightSafety International

Irving

Fledgling

Gulfstream

Dallas

Non-Performing

HelioVolt Corp.

Austin

Performing

Hewlett-Packard

Austin, Houston

Terminated

Hilmar Cheese

Dalhart

Non-Performing

Home Depot

Austin, New Braunfels

Troubled

Huntsman

Woodlands

Troubled

Ineos USA LLC

League City

Performing

JTEKT Automotive

Ennis

Performing

KLN Steel Products

San Antonio

Fledgling

Lee Container

Nacogdoches

Non-Performing

Lockheed Martin

Houston

Amended

Martifer Energia, S.A.

San Angelo

Amended

Maxim Integrated Products

San Antonio

Performing

Maxim Integrated Products

Irving

Terminated

Motiva

Port Arthur

Performing

Newly Weds Foods

Mt. Pleasant

Performing

Rackspace

San Antonio

Amended

Raytheon

McKinney

Performing

Rockwell Collins

Richardson

Amended

Ruiz Foods

Denison

Performing

Samsung

Austin

Troubled

Sanderson Farms

Waco

Non-Performing

Santana Textiles do Brasil

Edinburg

Non-Performing

Scott & White Memorial

Temple

Performing

Sematech

Austin

Weak

Superior Essex Communication

Brownwood

Troubled

TX Energy Center

Sugar Land

Amended

TX Instit. for Genomic Medicine

Houston, A&M

Amended

TX Instruments (w/ UT Dallas)

Richardson

Weak

T-Mobile

Frisco

Performing

Torchmark

McKinney

Performing

Trace Engines

Midland

Non-Performing

Tyson Foods

Sherman

Troubled

US Bowling Congress

Arlington

Fledgling

Vought

Dallas

Troubled

Washington Mutual

San Antonio

Informally Amended
Terminated Deals
Hewlett-Packard Co.
When Hewlett-Packard (HP) sacked CEO Carly Fiorina in 2005 and replaced her with Mark Hurd, "cost cutting" was the new boss's mantra. Analysts predicted that Hurd would slash up to 25,000 HP jobs.15 So perhaps it was too good to be true in October 2006 when TEF signed a $5 million deal for HP to spend $2 billion on four new data centers that would employ 420 Texans by 2010. Texas paid $3 million up front, with the remainder due after HP had created the first 210 jobs. Instead, the deal went sour and HP never filed its first compliance report, according to the Governor's Office. The parties formally terminated the contract in early 2008 because HP "was unable to meet the Job Target."16 The Governor's Office said it recovered HP's $3 million grant plus $210,847 in penalties.
Maxim Integrated Products
Four years after awarding $1.5 million to California-based Maxim Integrated Products for a San Antonio chip plant, TEF granted Maxim another $5 million in 2007 to sink into a $200 million chip facility in Irving. Maxim pledged that the Irving plant would employ 1,000 people by 2013. In its first compliance report, however, Maxim reported that "due to the economy and its effect on demand for our products, our plans for the Irving fab have been delayed." Maxim certified that it had just nine full-time employees on location at the end of 2007, far short of the 75 jobs that it had promised by then. With Maxim reporting that it still had not opened the facility in June 2008, the parties terminated the contract. The Governor's Office said it recovered the $2 million it had dispersed to Maxim and $107,149 in penalties. Maxim's TEF-subsidized plant in San Antonio has certified that it has complied with its pledge to create 500 jobs.
Non-Performing Deals
TEF recipients that failed to meet their 2008 job targets and could not cover the shortfall with surplus job credits accumulated in previous years.
Albany Engineered Composites
TEF awarded $1 million in early 2008 to New York-based Albany Engineered Composites, which makes fabrics used in the paper and aerospace industries. Albany pledged to invest $40 million to expand its Boerne plant by the end of 2008 and to create 337 jobs by 2014. In its first year, Albany reported that it created just 17 of the 55 jobs it had promised. "Beginning with the second half of 2008 the global economy has suffered the most severe recession in decades," Albany reported. The company added that the recession had shuttered its now-bankrupt Eclipse Jet unit. Albany had expected Eclipse to generate 40 percent of the plant's new jobs. Instead, the company projected that it would shed from 24 to 40 additional employees in 2009 and would need up to three additional years to meet its job targets. The agreement authorizes TEF to terminate the deal and recover its funds if Albany failed to create 28 jobs by the end of 2008. TEF reported in October 2009 that it had recovered $29,716 from Albany (10 percent of the funds that the company has received to date).
Authentix
This producer of counterfeit-detecting nanotechnology received $1 million in taxpayer funds in October 2007 to invest $6.6 million in the expansion of its operations in Addison. Authentix pledged to create 120 high-paying jobs by 2012. Acquired by the politically connected Carlyle Group in 2008, Authentix reported that year that it created 13 new jobs, or 12 short of its 25-job pledge. "Like other businesses in this industry sector and economy," the company reported to TEF, "Authentix is preserving its cash position and growing at a slightly slower pace than anticipated." Authentix reported that it expects to recover by 2010 and meet its job targets by 2012. Its jobs shortfall authorizes TEF to fine the company $2,464 per missing job, terminate the agreement and demand repayment of the grant funds with interest. TEF reported in October 2009 that it had recovered $17,248 from Authentix, or 2 percent of the company's state funding to date.
Cabela's
TEF promised in November 2004 to give this Nebraska sporting-goods retailer from $400,000 to $600,000 to sink $120 million into two superstores in Buda and Fort Worth.17 The TEF agreement floridly describes Cabela's stores and their economic ripple effects. It says that the two new stores will spur "new hotels, entertainment parks, restaurants and complimentary retail stores…expected to total over $250 million and create an additional 2,000 Texas jobs." Instead, the two stores have yet to provide the 400 relatively low-paying jobs18 for which they have been contractually responsible since 2005. TEF first forced Cabela's to repay some of its incentives in 2006, the first such repayment in the program's history.19 In previous years the company has blamed its lackluster results on hurricanes and high gas prices. "The environment continues to be difficult," notes the company's latest compliance report, "though Cabela's commitment to the [stet] Texas remains steadfast." Cabela's reported in 2008 that the hyped stores had 241 full-time jobs—159 jobs short of its pledge. To date, the state has recovered $177,288 from Cabela's. This amounts to 44 percent of the TEF funds disbursed to the company. Cabela's last TEF report contained discouraging news about promised economic ripple effects. Due to the economic crisis, the report says, a hotel and two apartment projects slated to be built near the stores have been put on hold.
Worst- and Best-Paying TEF Jobs
Average
Annual Job
Compensation

Recipient

Job
Target

TEF
Grant

Worst-Paying TEF Jobs

$16,752

Lee Container

105

$300,000

$18,720

Sanderson Farms

1,312

$500,000

$23,000

Cabela's

400

$600,000

$23,000

Ruiz Foods

423

$1,500,000

$24,000

Tyson Foods

1,600

$7,000,000

$26,465

Hilmar Cheese

*1,962

$7,500,000

$26,595

Santana Textiles

800

$1,650,000

$28,000

Superior Essex Communication

50

$250,000

$29,500

Newly Weds Foods

115

$450,000

lalala

Best-Paying TEF Jobs

$152,500

Comerica

200

$3,500,000

$112,000

Ineos USA LLC

100

$750,000

$100,000

Authentix

120

$1,000,000

$76,000

Lockheed Martin

800

$5,480,000

$77,000

Huntsman

326

$2,750,000

$72,000

CITGO Petroleum

820

$5,000,000

$72,000

HelioVolt Corp.

158

$1,000,000

$70,000

Sematech

400

$40,000,000

$70,000

Texas Energy Center

*1,500

$3,600,000

$70,000

UT Health Science Center

*2,252

$25,000,000
*Includes indirect jobs (not limited to those directly created by TEF funding).
Fidelity Global Brokerage
TEF agreed in early 2007 to award $8.5 million to Boston-based Fidelity Global Brokerage Group to invest $200 million in expanding its operations in the Town of Westlake. Fidelity pledged to create 1,535 high-paying new jobs by the end of 2009. The company reported that it exceeded its 2007 job target of 651, amassing 132 surplus job credits. In 2008, however, Fidelity reported that it fell 509 jobs short of its target of 1,217 new jobs. Even after applying its 132-job surplus, Fidelity fell 79 jobs short of its promise. The company boosted its job count by successfully lobbying TEF to count jobs at Fidelity affiliates that were excluded from the original agreement.20 TEF reported at the end of October that it had not recovered any funds from Fidelity.
Gulfstream Aerospace Services
TEF awarded $750,000 in early 2008 to Gulfstream to invest $20 million to expand its business-jet plant in Dallas. The deal pledged 150 new jobs by the end of 2009, with half of them due at the end of 2008. Gulfstream reported that it had created just 34 of the promised 75 jobs by the end of 2008. "The current unprecedented financial crisis, which is beyond any of our control, has caused severe economic deterioration," the jet company reported, "which has in turn slowed down our hiring plan." The agreement authorizes TEF to terminate the deal and recover its funds if Gulfstream fails to create at least 37 jobs by the end of 2008. TEF reported at the end of October that it had not recovered a dime from Gulfstream.
Hilmar Cheese Co.
Ten months after California hit Hilmar Cheese Co. with a record environmental fine (see "California's Big Cheese"), TEF awarded the same company $7.5 million in late 2005 to invest $190 million to build a new cheese factory in the Panhandle town of Dalhart. Hilmar officials said they were attracted to Texas by its "common-sense approach to regulation."21 Cheered in Dalhart when he announced the new plant in 2005, Hilmar Chair Richard Clauss said he "never got a welcome like that in California."22 Hilmar pledged to create 376 new jobs directly by 2015. It also promised to spur another 1,586 "associated" jobs at new dairies created to supply the Hilmar factory. This cheese deal ripened slowly. By the end of 2008 Hilmar reported that it had created 169 direct new jobs and 326 associated jobs, falling 106 jobs short of its pledge. As a result of shortfalls, Hilmar had to repay the state almost $282,353 (4 percent of its state funding).


California's Big Cheese
A 2004 investigative report on Hilmar Cheese Co. found that, "For more than a decade, California water-quality enforcers have given the world's largest cheese factory a free ride, sparing the politically connected company millions of dollars in required sewage treatment and allowing it to foul local water supplies and the air of nearby neighborhoods." 1 This Sacramento Bee expose noted that Hilmar was "among the first of Gov. Gray Davis' major donors to switch to Arnold Schwarzenegger" during California's 2003 gubernatorial recall campaign. New Governor Schwarzenegger then tapped Hilmar founder Chuck Ahlem as undersecretary of agriculture (Ahlen's son David became the manager of Hilmar's Texas plant). During the late 1990s, Chuck Ahlem had served on the Central Valley Regional Water Quality Control Board.2 This agency later documented that Hilmar had dumped hundreds of thousands of gallons of wastewater a day for years, attracting hordes of flies, quintupling groundwater salinity and triggering thousands of environmental violations. After Ahlem complained to the water board in 2001 about its probe of Hilmar pollution, staff regulators said that they were told "to back off" the investigation. Six weeks after the Sacramento Bee published its expose, the board fined Hilmar $4 million and Chuck Ahlem resigned his state agricultural post to focus on his company's regulatory issues (Hilmar later settled those issues for $3 million).3
1 "The World's Biggest Cheese Factory Fouled Water and Air for Years," Sacramento Bee, December 12, 2004.
2 Appointed by Governor Pete Wilson.
3 "Hilmar Settlement Reached," Sacramento Bee, March 17, 2006.
Lee Container
TEF gave Georgia-based Lee Container $300,000 in 2005 to invest $5.6 million in a Nacogdoches plastic-bottle plant that promised to create 105 jobs by 2010. Lee Container's TEF contract requires these jobs to pay an average annual gross compensation of at least $16,752, making them the worst-paying jobs in TEF history. Citing performance bottlenecks, Lee reported creating 51 new jobs in 2008—or 24 fewer than promised. TEF reported in October that it had recovered $12,336 from Lee container (4 percent of its state funding).
Sanderson Farms
Mississippi-based Sanderson Farms landed a $500,000 TEF grant in 2006 to invest $73 million in a new chicken hatchery and processing plant in Waco by the end of 2007. The plant promised to create 1,312 jobs by the end of 2008. TEF requires these chicken jobs to pay an average annual gross compensation of $18,720, making them the second-lowest TEF wages after Lee Container. Apparently these jobs have a life expectancy akin to that of a Sanderson fryer. The TEF contract just requires Sanderson to maintain the jobs through 2009. TEF paid Sanderson $381 per targeted job, making these the cheapest TEF jobs on record.
Sanderson reported 1,269 jobs at the end of 2008—43 jobs short of its target. To cover the deficit, Sanderson asked to draw on its surplus of 121 extra jobs from 2007.23 Yet Sanderson did not appear on a TEF list of grantees that boasted surplus job credits at year-end 2008. Moreover, three weeks after Sanderson requested that its 2007 surplus be applied to its 2008 deficit, the chicken company asked the Governor's Office if it could count 78 contract chicken growers toward "the deficit of our total Texas jobs?" The Governor's Office said this chicken idea didn't fly. TEF data report that Sanderson returned $14,491—or the contractually stipulated $337 per missing job. This penalty amounted to less than three percent of Sanderson's total TEF funding.
Santana Textiles
TEF awarded $1.65 million in August 2008 to Brazil-based Santana Textiles to invest $170 million in a new denim plant in Edinburg by 2010. Santana pledged to create 800 low-paying jobs there by 2014, including 13 by the end of 2008. Citing "the financial crisis," Santana reported that it struck out on its 2008 job targets. The development deal authorizes TEF to terminate the agreement and recover its costs if Santana failed to create at least six jobs by the end of 2008. Instead, TEF fined the company $64,496, or 8 percent of its TEF funding to date.
Trace Engines
TEF awarded $465,000 in 2006 to Trace Engines to invest $9.7 million in a plant to build engines for small aircraft.24 The deal promises to create 114 jobs by 2013. While Trace's TEF application listed Oklahoma as a competitor for the plant, the company's top investors live in West Texas and intended to locate there from the get go.25 "When we started more than two years ago," Trace board member L.D. 'Buddy' Sipes told the Odessa American in 2007, "a lot of people saw it as a way to diversify the [local] economy."26 Trace reported that it had created 16 jobs by the end of 2008, or half of its commitment for that year. Trace cited the federal government as the main cause of its shortfall, reporting that the Federal Aviation Authority has yet to grant "Production Approval of our Facility." Trace requested that "no penalties be imposed…given our large contribution to Midland's tax base." As of October 2009, TEF had recovered $17,930 from Trace, or seven percent of Trace's TEF funding to date.