Get your own Bush League Pioneer Trading Cards
Be the first on your block to own the whole set, now only $5.


SOLD OUT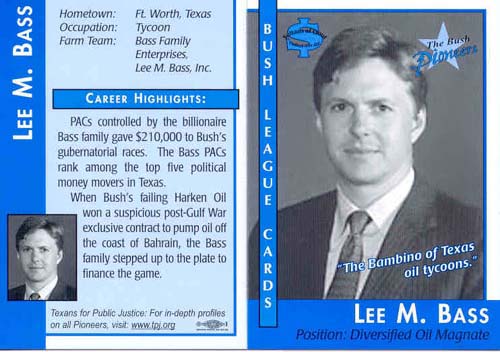 SOLD OUT
Texans for Public Justice is offering a full set of it's Bush League trading cards for just $5. Each of the 20 card has statistics and a profile of a Bush "Pioneer" who has raised at least $100,000 for Bush's presidential election. To request a set, just e-mail us.


Or, you can simply print out the following form and mail it to TPJ at:
Texans for Public Justice
609 W. 18th St. Suite E
Austin, TX 78701
Name:
Address:
City:
State:
Zip:
Phone:
Fax:
Email:
I would like ___ sets of Bush League Cards. I have enclosed a check to Texans for Public Jusitce for _______ ($5.00 per set).
---

View Profiles of all the Pioneers | Return to Bush Index | Return to TPJ