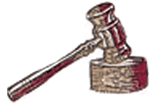 Three of the nine justices sitting on the all-Republican Texas Supreme Court face reelection in November 2008, when voters are likely to hand fresh six-year terms to them or to Democratic challengers.1 Texas judges run for office in partisan campaigns heavily bankrolled by lawyers and litigants who have cases before state courts. This conflict of interest destroys public confidence in the courts. In a 1999 Texas Supreme Court poll, 83 percent of Texans said that state judges are influenced by campaign contributions.

This report scours the $2.3 million that these three incumbents and their Democratic challengers raised from January 2007 through June 2008 in order to identify "courtroom contributors" who have had recent business before the Texas Supreme Court.2 Researchers ran the names and employers of Supreme Court campaign donors to see if they matched the names of lawyers, law firms, litigants or friends of the court named in motions, appeals and cases before the Texas Supreme Court between January 2005 and July 2008.3

For the three incumbents, researchers ignored courtroom contributions linked to cases in which the recipient justice did not participate.4 As such, a given justice's "courtroom contributors" had one or more appellate cases before that justice. For the challengers, who have never served on the Supreme Court, researchers tagged every contribution from a lawyer or litigant who had business before that Supreme Court from January 2005 until July 2008. During this period, 4,295 different case filings were active before the Supreme Court. Forty percent of these cases were tainted by the fact that the three now-campaigning justices handling them received at least one contribution from a lawyer or litigant involved in that case. Despite differences between the top contributors to the Republican incumbents (led by corporate defense firms) and their Democratic challengers (featuring plaintiff attorneys), both sides took approximately two-thirds of their political funds from contributors with business before the court.

Texans For Public Justice's 1998 report "Payola Justice" found that courtroom contributors accounted for 40 percent of the money raised by the seven incumbent justices elected in 1994 or 1996.5 Yet that study just linked campaign contributors to 530 opinions issued by the court. This new study links contributors to a much larger universe of appellate matters before the court, including the numerous appeals that the court declines to review (with these denials typically benefiting just one side of a dispute).

Most of the courtroom contributors identified in this report are lawyers and law firms that frequently litigate matters before the Supreme Court.6 For simplicity, researchers tracked a single total for all the contributions that candidates received from a given law firm, its attorneys and its political committee. Corporations are prohibited from contributing directly to a campaign so the contributions attributed to these companies came from their PACs and executives. This study does not track the outcomes of courtroom-contributor cases.7 Its narrower focus is on the degree to which courtroom contributors bankroll Supreme Court campaigns.

Top Courtroom Contributors To Supreme Court Candidates



Total
To Six
Candidates

Courtroom Contributor

No. of
High-Court
Cases

Interest

Haynes & Boone LLP

Law Firm

Vinson & Elkins LLP

Law Firm

Fulbright & Jaworski LLP

Law Firm

Cruse Scott Henderson & Allen LLP

Law Firm

United Services Automobile Assn.

Insurance

Fibich Hampton Leebron & Garth LLP

Law Firm

Andrews & Kurth LLP

Law Firm

Thompson & Knight LLP

Law Firm

Bracewell & Giuliani LLP

Law Firm

Jackson Walker LLP

Law Firm

Baker Botts LLP

Law Firm

Feazell Rosenthal & Watson

Law Firm

Bickel & Brewer

Law Firm

King & Spalding LLP

Law Firm

Texans For Lawsuit Reform8

Anti-liability business group

Cantey Hanger Roan & Autrey LLP

Law Firm

Barker Leon Fancher & Matthys LLP

Law Firm

Frank L. Branson PC

Law Firm

Jamail & Kolius

Law Firm

McGinnis Lochridge & Kilgore LLP

Law Firm

Beirne Maynard & Parsons

Law Firm

Strasburger & Price

Law Firm

Kirkpatrick & Lockhart Preston Gates

Law Firm

Mithoff & Jacks LLP

Law Firm

Winstead PC

Law Firm

Zachry Construction Corp.

Construction

Brock Person Guerra Reyna

Law Firm

AT&T, Inc.

Communications

Beck Redden & Sechrest LLP

Law Firm

Hughes & Luce LLP

Law Firm

O'Quinn Laminack & Pirtle

Law Firm

Locke Liddell & Sapp LLP

Law Firm

ExxonMobil Corp.

Energy/Natural Resources

Akin Gump Strauss Hauer & Feld

Law Firm

Texas Civil Justice League9

Anti-liability business group

Davis Cedillo & Mendoza, Inc.

Law Firm

Fisher Boyd Brown Boudreaux…

Law Firm

Gardere Wynne Sewell & Riggs

Law Firm

Graves Dougherty Hearon & Moody

Law Firm

Thompson Coe Cousins & Irons LLP

Law Firm

Williams Bailey Law Firm LLP

Law Firm

Cases Yielding the Most Courtroom Contributions


Case-Related
Contributions
To 6 Candidates

Case
Number

Case Name or 'Style'
COC Services, Ltd. v. Grupo Carso, S.A. De C.V., et al.
Volkswagen of America, Inc. v. Andrew Ramirez, Sr., et al.
In Re Union Carbide Corp.
In Re Badger Mining Corp. (five consolidated cases)
Excess Underwriters at Lloyd's et al. v. Frank's Casing Crew & Rental Tools
Jim Wells Co. & Premont ISD v. El Paso Production Oil And Gas Co., et al.
James Anderson et al. v. Crown Central LLC, et al.
RGM Constructors, L.P. v. Tribble & Stephens Co.
In Re CNA Lloyds of Texas, et al.
In Re United Services Automobile Association
United Services Automobile Association v. James Steven Brite
Peter C. Browning, et al. v. Jeff P. Prostok, et al.
Unauthorized Practice of Law Committee v. American Home Assurance Co.
First Source Texas, Inc., et al. v. Navasota Resources, L.P.
Dennis L. Miga v. Ronald L. Jensen
In Re James Anderson et al.
In Re Centerpoint Energy Houston Electric, LLC
John Daniel Jacobson v. Rebecca L. Broesche
In Re Citigroup Global Markets, Inc., et al.
In Re Waller Independent School District
In Re BP Products North America, Inc.

Note: A given law firm may have worked on several of these cases (adding contribution totals for multiple cases could count the
same contribution dollar more than once).
*The court closed this matter before Justice Johnson joined the court; this total does not include donations to Johnson.

---

1 There also are three Libertarian challengers: Tom Oxford is running for chief justice; David G. Smith is challenging Justice Wainwright; and Drew Shirley is challenging Justice Johnson.
2 Researchers looked for any campaign funds that the six candidates raised after December 31, 2006. The first contribution raised in 2007 varied by candidate. For Justices Jefferson and Johnson they occurred in March 2007. Justice Wainwright received his first contribution that year in June. The campaign of District Judge Jim Jordan began raising money in January 2007. Thirteenth Court of Appeals Justice Linda Yañez received her first 2007 contribution in August. Finally, Sam Houston raised his first contribution in October 2007.
3 The Supreme Court agrees to hear approximately 11 percent of the appeals it receives. This study includes both the appeals that the court hears as well as those that it declines.
4 For this reason, researchers did not count contributions to Justice Johnson from lawyers and litigants whose cases closed before Justice Johnson joined the court in March 2005. Similarly, contributions from lawyers and litigants involved in a case did not count against any justice who did not participate in that case. Given that much of the docket-linked money came from lawyers and law firms with a steady stream of cases before the court, this often was a theoretical distinction. Even if a justice recused himself from one case litigated by a big firm such as Haynes & Boone, the same justice typically participated in other Haynes & Boone cases that did create a docket link with this donor.
5 "Payola Justice: How Texas Supreme Court Justices Raise Money From Court Litigants," February 1998.
http://www.tpj.org/docs/1998/02/reports/payola/toc.html
6 An earlier TPJ study of campaign contributions to Texas' intermediate appeals court judges found that those judges got 72 percent of their funds from lawyers and law firms. This dependence on lawyers jumped from 61 percent for appeals court judges elected in 1996 to 76 percent for appeals court judges elected in 2002. "Lowering the Bar: Lawyers Keep Texas Appeals Judges on Retainer," Texans For Public Justice, May 2003. http://www.tpj.org/docs/2002/05/reports/apcourt/
7 An earlier TPJ report found that the court's campaign contributors enjoy much more success at having the court hear their appeals than do lawyers and litigants who do not give the justices political funds. See "Pay To Play: How Big Money Buys Access to the Texas Supreme Court," TPJ April 2001. http://www.tpj.org/docs/2001/04/reports/paytoplay/
8 The Houston Chronicle's Clay Robison recently reported different amounts this cycle from Texans for Lawsuit Reform ("Here's When Campaigning Feels Shifty," September 28, 2008). Robison reported that Texans for Lawsuit Reform (TLR) gave $10,000 apiece to Justices Jefferson and Johnson but did not mention the $10,000 that the group gave to Justice Wainwright (he may have missed this check because Justice Wainwright misidentified the donor as "Texas for Lawsuit Reform"). This study says that TLR gave $22,500 to the justices (rather than $30,000) because it just covers contributions that the justices reported receiving by June 30, 2008. Although TLR's PAC reported giving $7,500 to Justice Johnson on June 26, 2008, his campaign did not report receiving this check in the period ending June 30, 2008.
9 The Houston Chronicle's Clay Robison recently reported different amounts this cycle from the Texas Civil Justice League ("Here's When Campaigning Feels Shifty," September 28, 2008). Robison reported that the Texas Civil Justice League (TCJL) gave the justices $6,500 apiece for a total of $19,500. This study reports that TCJL gave the three justices $13,500 (4,500 apiece), which is what the justices reported receiving in the studied period ending June 30, 2008. As Robison's reporting reflects, TCJL PAC subsequently reported giving the three justices another $2,000 apiece. The one oddity here is that TCJL PAC reported giving $5,000 to Justice Johnson in January 2008, yet Justice Johnson reported receiving $4,500 from TCJL PAC that month.